Diagnostic Labs
The University of Florida has resource plant diagnostic laboratories located in six regions of the state. The Gainesville lab serves as the main hub, with extension labs in five other counties in Florida. Each laboratory serves the surrounding counties through diagnosis of commercial, homeowner, and extension plant disease samples. If you have a diagnostic issue, you can contact any of these diagnostic labs.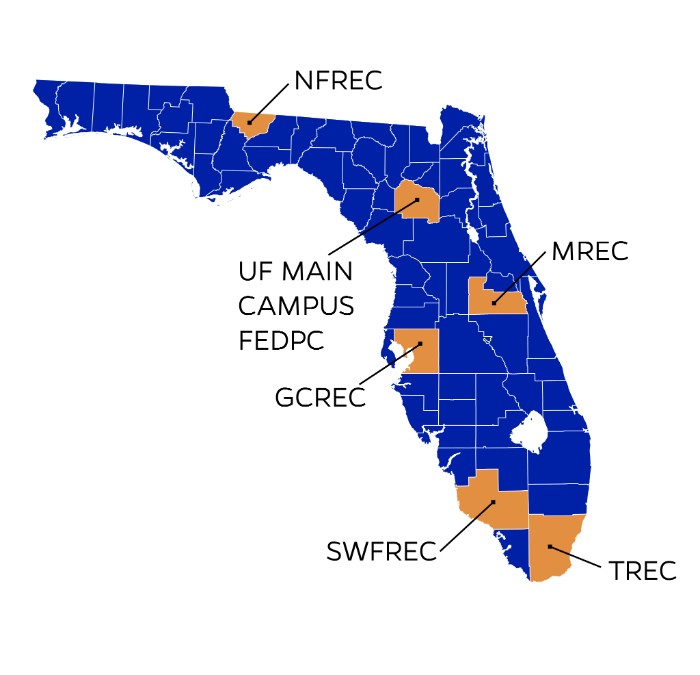 The UF IFAS Plant Disease Center in Gainesville, FL is the resource diagnostic clinic for the Florida Plant Diagnostic Network and the location of the Rapid Turf Diagnostic Service.
The Plant Diagnostic Clinic (PDC) at the North Florida Research and Education Center (NFREC), Quincy is designed to provide plant disease and insect diagnostic services for any Florida resident interested in plant diseases and pests.
Services include plant materials samples, sod samples, soil samples, insect samples. The plant clinic for homeowners is available on Tuesdays from 9:00am - 12:00pm.
The GCREC Clinic is located at the Gulf Coast Research and Education Cener in Wimauma, FL.
Our primary goal is to determine if the plant problem dysfunction involves an infectious causal agent, e.g. fungus, bacterium or virus. This is done by associating causal agents with symptomatic plant tissue.
The Clinic located at the TREC is designed to provide plant disease diagnostic services including analysis of plant material for bacterial, fungal, viral, and nematode pathogens as well as the identification of insect pests.