Dr. Matthew E. Smith - Teaching
I teach the Fungal Biology course at University of Florida (PLP 4653C/6656C).
This course is offered simultaneously for both graduate students and undergrads from across the UF campus. Mycology is the study of fungal biology. With an estimated 6.1 million species around the globe, fungi are extremely diverse in both terrestrial and aquatic ecosystems and they serve as the most important decomposers of organic matter on the planet. Fungi are also ecologically and economically important as symbionts and pathogens of a wide variety of plants and animals. The main objective of this course is to provide students with a broad overview of fungi and fungal biology. Much of the class will focus on fungal ecology, fungal diversity, and fungal evolution.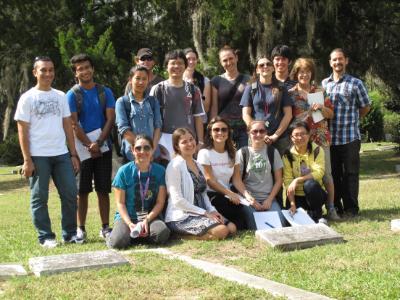 During this course students will: ‌‌
Learn about fungi, their biology, and the important impacts they have on humans and natural ecosystems
Collect and identify a variety of different fungi from local habitats
Use microscopy to examine the morphology of fungi in the laboratory
Read, discuss, and critique journal articles that address various aspects of fungal biology
Learn about the molecular tools currently being used to study fungi
By the end of this course, students will be able to:
Read and interpret journal articles focused on fungal biology
Understand and explain the ecological roles and trophic modes of major fungal groups
Use fungal biology resources to understand fungal nomenclature and systematics
Identify major fungal groups based on morphology (both in the field and in the lab)
Read and interpret a phylogenetic tree
Give a 10-minute presentation with appropriate visual aids
Provide constructive criticism during a peer review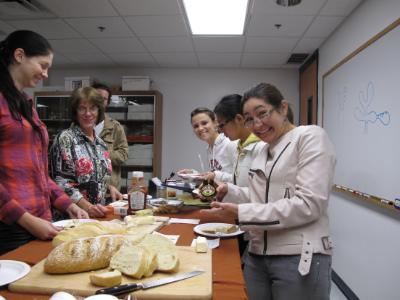 As part of the mycology course, students have created pages about fungal species for the Encyclopdia of Life project (www.eol.org). Examples of EOL fungal species pages from our class can be found here:
Loose Smut of Wheat (by Wael Elwakil): http://eol.org/pages/1005568/overview
Diplodia corticola (by Sonja Mullerin): http://eol.org/pages/6438231/overview
Tricholoma magnivelare (by Jenna Messick): http://eol.org/pages/300450/details
Isaria fumosorosea (by Nina Zagvazdina):http://eol.org/pages/11500117/overview