Elena Karlsen-Ayala
Fourth Year Ph.D. Student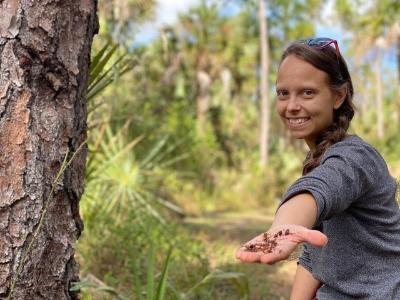 ---
Contact:
Email: ekarlsenayala@ufl.edu
About
I am a third year PhD student co-advised by Dr. Matthew Smith and Dr. Romina Gazis. After completing my bachelor's degree at Smith College in biology, I was a lab manager in a fungal systematics and phylogenetics lab at Purdue University. I am interested in ecology and systematics particularly mycorrhizal fungi and how disturbance shapes their community function.
Education

Bachelor of Arts in Biology: Smith College

Research

My research is focused on understanding the role of rhizosphere fungal communities (particularly mycorrhizal fungi) in the South Florida Pine Rocklands. The Pine Rocklands are an imperiled ecosystem endemic to South Florida by threats such as habitat fragmentation, invasive species, and climate change. This ecosystem is unique because fire is required to maintain critical ecosystem functions such as reducing invasive species and preventing the understory from converting to a rockland hammock. My objectives are to characterize the mycorrhizal fungal community of the pine rocklands, to understand which fungi are important in pine seedling establishment, and to understand how disturbance such as fire impacts fungal spore banks. The goal is to use these data to better inform conservation strategies and initiatives.

Publications

Karlsen-Ayala, E., Gazis, R., & Smith, M. E. (2021). Asperosporus subterraneus, a new genus and species of sequestrate Agaricaceae found in Florida nursery production. Fungal Systematics and Evolution.

Ramírez-Camejo, L. A., Eamvijarn, A., Díaz-Valderrama, J. R., Karlsen-Ayala, E., Koch, R., Johnson, E., ... & Aime, C. (2021). Global analysis of Hemileia vastatrix populations shows clonal reproduction for the coffee leaf rust pathogen throughout most of its range. Phytopathology, (ja).

Karlsen-Ayala, E., & Smith, M. E. (2020). Macrocybe titans: The Mushroom Giant of the Western Hemisphere. EDIS, 2020(2).

Ruhl, G. E., Creswell, T., Karlsen-Ayala, E. M., Stefancik, B., Johnson, K., Kenaley, S. C., & Bergstrom, G. C. (2019). First Report of the Head Smut Fungus Tilletia maclaganii Infecting Switchgrass (Panicum virgatum) in Indiana. Plant Disease, (ja).

Sokol NW, SE Kuebbing, E Karlsen-Ayala, and MA Bradford. 2018. Evidence for the primacy of living root inputs, not root or shoot litter, in forming soil organic carbon. New Phytologist.