Dr. Matthew Smith
Professor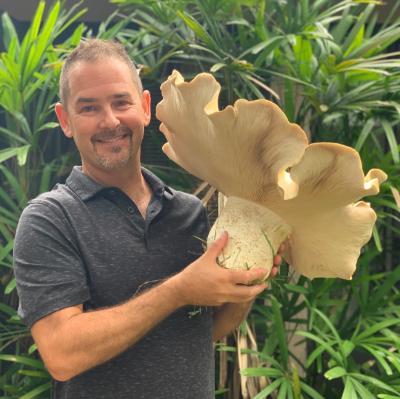 ---
Contact:
Phone: (352) 273-2837
Email: trufflesmith@ufl.edu
Office: Rm. #2527, Fifield Hall
2550 Hull Road
Gainesville, FL, 32611
About
As a Professor in the Department of Plant Pathology and the curator of the Fungal Collection (Fungarium) of the Florida Museum of Natural History (FLAS) I have duties in three main areas: research (60%), teaching (20%) and extension (20%). I teach the UF Fungal Biology course (PLP 4653C/6656C) and am responsible for identifying unknown fungi for a variety of Florida stakeholders, including the UF/IFAS Plant Diagnostic, UF-IFAS Extension Service, the UF Veterinary School, and Florida's Poison Control Centers. I am broadly interested in fungal ecology, evolution, and systematics. I have worked extensively on the biology and systematics of hypogeous fungi ("truffles") and the ecology of plant-symbiotic ectomycorrhizal (ECM) fungi. However, I have also studied a variety of other fungi, including the systematics of zygomycete fungi (in collaboration with Gerald Benny and ZygoLife), Florida's wood decay fungi, and the symbiotic fungi of ambrosia beetles (in collaboration with Jiri Hulcr). Work in our lab combines the synergistic use of molecular, morphological, and culture-based methods in both laboratory and field settings.